Out-of-State Adoption [Find a Family From Another State]
How Our National Presence Gives Your More Adoption Opportunities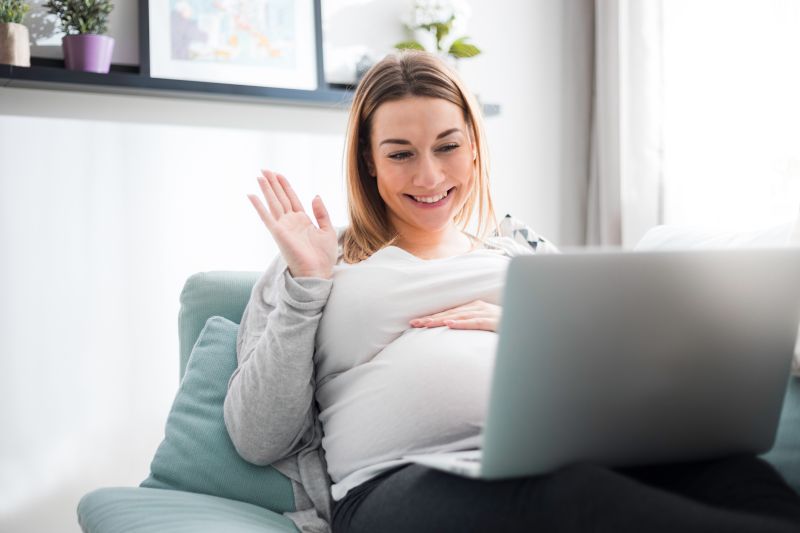 Finding the right family for your adoption in Missouri isn't limited to just your state. We can help you locate the perfect adoptive family even if they live in a different state.
Because finding the right family for your baby is so important, you might be wondering, "Can people from a different state adopt my baby?"
The answer is yes, and we'll explain how our agency is better equipped than most to give you the best adoption opportunities, including helping you match with adoptive families from another state.
If you're ready to start your Missouri adoption journey today and locate an amazing family, call 1-800-ADOPTION or fill out this form to get connected to one of our trusted and experienced adoption specialists.
Continue reading for further details about out-of-state adoption in Missouri and how our national size and scope can give you hundreds of profiles of wonderful adoptive families from across the country.
The Benefits of Working with a National Adoption Agency
There are numerous types of adoption agencies and professionals, many of which provide key services but are still limited in the adoption opportunities they can offer you.
Just as important as our 24/7 support and industry-leading services are for your adoption in Missouri, finding the right adoptive family for your baby is a goal we strive to achieve.
Along with providing unique adoption profiles, here are just some of the many services you get during your adoption in Missouri:
You get to create an adoption plan tailed to your every need.
You get to determine the preferences for an adoptive family. This can include identifiable traits such as age, lifestyle, religious beliefs, ethnic background, sexual orientation and more.
You are provided video profiles and hard-copy profile books of adoptive families from around the country that match your expressed preferences.
Because you deserve the opportunity to find a family that makes you feel connected and confident that they are the perfect match, we provide you with adoption profiles that perfectly fit the needs express in your adoption plan.
As a national agency, we work with hundreds of adoptive families from around the country so that you have a better chance at finding the perfect parents for your baby.
So, how can you give a child up for adoption in a different state? We'll examine that process and how you can begin building a lifelong bond with the adoptive family you choose through open adoption.
But first, it's crucial to understand that "giving up" a child for adoption is never "giving up" on them. You are giving your baby the chance to have the best life imaginable. We think that makes you a hero.
How Can People from a Different State Adopt My Baby in Missouri?
Adoption laws can vary from state to state. The differences can show up when it comes time for an adoptive family to complete a home study, as well as when they can travel back to their home state after the completion of your adoption.
Whether you choose a local adoptive family or find the perfect match with an adoptive couple from another state, we've got you covered.
When it comes to adoption laws, you are provided a trusted, ethical and experienced adoption attorney that will work to address every aspect of your local or interstate adoption. Because we deal with interstate adoption in Missouri and across the country every day, we can help you find the perfect family no matter where they live.
Here are the steps to finding and getting to know the adoptive parents in an out-of-state adoption.
Step 1: Use Our Unique Adoption Profiles to Find the Perfect Family
One of the most exciting aspects of your adoption journey is finding the adoptive family.
Because you and your baby deserve every opportunity to not just find a family, but find the right family, we put together unique adoption profiles and videos to gives you a deeper insight into who an adoptive family is, what their interests are and their environment is like.
Our video profiles also let prospective adoptive parents tell you why they want to adopt your baby. These profiles are especially helpful for Missouri out-of-state adoption.
You can view our available adoptive family profiles today. But, keep in mind, some families may not be far enough along in the process to have completed their profile, so call 1-800-ADOPTION to speak to an adoption specialist to get more information on finding an amazing family.
Step 2: Get to Know the Adoptive Family
Once you've found the perfect adoptive family for your baby, particularly for an out-of-state adoption, an initial meeting via phone call, video chat or depending on the distance, an in-person meeting, will give you the chance to ask questions and begin building a stronger connection.
Your adoption specialist will help mediate the first meeting to help you determine whether you still feel as though they are the right fit. After that, you can have as much or as little direct communication as you want during your Missouri interstate adoption.
We strongly recommend having an open adoption relationship, as it keeps you and the adoptive family you choose connected and can create a lifelong relationship.
Sara is just one of our thousands of birth mothers who developed an incredible connection with her adoptive parents.
"I fell in love with Brad and Diane instantly. I wanted to talk with them. They were kind, compassionate, non-judgmental and understanding. They called me their 'Angel.' We shared family stories. Our families were so similar."
"When I hung up the phone, I knew this was the family who was going to raise my baby."
Call 1-800-ADOPTION because we're ready to help you find an adoptive family that gives you the same feeling, even if that means finding a couple for an out-of-state adoption.
Step 3: Meet the Adoptive Family at the Hospital
With an interstate adoption, your communication thus far has likely been through phone calls, text messages and video chats.
When it comes time for the birth of your baby, you will get to experience the incredible moment of meeting the adoptive family at the hospital.
Because you are in control of your adoption, you get to create a hospital plan. That includes decisions such as when you wish to see the adoptive family and how much time you plan to spend with them.
Every birth mother is different in this regard, so the contact you have with the adoptive family at the hospital is completely up to you.
Carly is one of our many birth mothers that experienced the incredible bond with her adoptive family at the hospital.
"I had the great pleasure of being the first person to hand Teresa her son and say, 'Here is your baby.' Watching Jason and Teresa fall in love while holding him was such a great sight."
The Interstate Compact Placement of Children (ICPC) process of completing the adoption paperwork means the family in your out-of-state adoption in Missouri must wait to travel home until they've been given official clearance.
Like Carly, who spent four days in the hospital with the family, this gives you extra time to get to know the family you choose and continue building a healthy relationship for the future.
Step 4: Stay Connected Through Open Adoption
Just because you've completed an interstate adoption doesn't mean your journey has to end. Through open adoption, you and your adoptive family can decide together how to stay connected and enjoy a lifelong relationship and shared bond.
Whether you choose letters with pictures, phone calls, video chats or the occasional in-person visit, you have the opportunity to remain a fixture in your child's life as well as stay connected with the adoptive family.
Whatever level of contact you have with the adoptive parents is completely up to you. You can get more information on post-placement contact with the adoptive family from one of our adoption specialists by calling 1-800-ADOPTION or by completing this form.
Start Your Adoption Journey Today
When you started reading this guide, you were wondering, "Can people from another state adopt my baby?"
Yes, they can and out-of-state adoptions in Missouri are commonplace for our agency. Finding the right family that's perfect for your baby is the most important thing, even if that means they live in another state.
We are ready to get you the information you need on creating an adoption plan as well as how you can start searching through profiles to find the perfect family for your adoption in Missouri. Call 1-800-ADOPTION or fill out our form to get started today.
You can also ask Michelle, a birth parent specialist and a birth parent herself, who is ready to answer any questions you have about putting a baby up for adoption.
"I am available to answer any questions that arise, particularly from birth moms, as I have been in your shoes and know how you are feeling."
You deserve to work with trusted and experienced adoption professionals and because many of us are adoptive parents, birth mothers and adoptees, we understand the support and services you need to have the best possible experience.
Disclaimer
Information available through these links is the sole property of the companies and organizations listed therein. American Adoptions, Inc. provides this information as a courtesy and is in no way responsible for its content or accuracy.