Your Missouri Adoption Home Study Checklist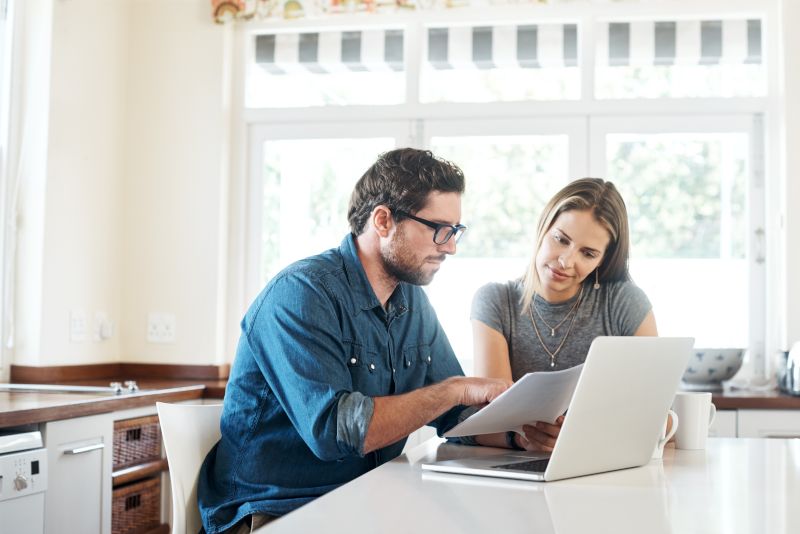 For many hopeful adoptive parents, the adoption home study is a stress point in the adoption process. Few things are more anxiety-inducing than having every detail of your life reviewed by a stranger. It's normal to feel that perceived pressure to perform. The good news is that having a MO home study checklist can help you overcome your concerns.
Navigating the adoption home study process with little stress comes down to thorough preparation. At American Adoptions, we want to help you ensure you're prepared for the process by giving you a MO adoption home study checklist. That way, you'll know what's necessary to pass the adoption home study successfully.
Sure, the home study can be intimidating, but having a compassionate, experienced adoption professional on your team makes a big difference in your comfort level. To speak with one of our specialists and get a MO home study checklist, please call 1-800-ADOPTION today or complete our online contact form.
Below, we'll cover the standard MO adoption home visit checklist and how it can help you know what steps are necessary for a smooth, low-stress adoption home study experience.
What is the Adoption Home Study in Missouri? [And Why Is It Necessary?]
If you're new to the adoption process, you may be wondering what an adoption home study is and why you have to undergo one. Therefore, it's important to get a basic understanding of the concept before focusing on the MO adoption home inspection checklist.
The adoption home study, required by state law in MO for all adoptions, is a thorough inspection of a hopeful adoptive family's residence and home life. It assesses the emotional, physical, and financial readiness of a prospective hopeful adoptive family and includes several steps. The home study is performed by a licensed home study professional or social worker.
As part of the adoption home study, your social worker will:
Review required documents
Perform a detailed home inspection and safety check
Once those steps are complete, the social worker creates a formal home study report that's presented to state government, the family court, and the hopeful parents' adoption agency. During the adoption finalization hearing, this report is reviewed to make sure the adoptee will be safe in the adoptive home.
Because of its importance to the overall adoption process, many prospective adoptive parents use a detailed MO home study checklist to prepare for document submission, the in-home interview, and home tour portions of the home study process.
How Does Having an Adoption Home Study Checklist in MO Help You Get Ready?
Adoption laws, and adoption home study requirements, vary from one state to another. That's why it's a good idea to use a MO adoption home study checklist to ensure you're prepared to begin the process in your state. But what if you're adopting from another state that has differing home study requirements?
At American Adoptions, we can help with that. Because we are a national adoption agency, we've created a guide for every state. We'll be here along the way to give you full support throughout your journey, including our Missouri home study checklist.
We also go beyond the MO home study checklist by offering full support throughout the process. We'll thoroughly review your home study to ensure it complies with nationwide guidelines. That means you won't hit any snags if you get an adoption opportunity in another state. It's our goal to reduce your stress regarding the home study process.
Now, let's cover some of the things you should include on your MO home study adoption checklist. Please keep reading below.
What Items Should I Include on My Missouri Adoption Home Study Checklist?
The key to building your own Missouri social worker home visit checklist is to be as thorough as you can. Again, getting through the home study with as little stress as possible is the result of diligent preparation. That's why you're making a Missouri home study checklist in the first place.
Once you've made a draft of your Missouri adoption home study checklist, be sure to run it by your adoption professional or home study provider. They can confirm that you've included all the appropriate requirements. We're also here to provide feedback to ensure you've met the requirements before you get to the day of your home study.
Below is a detailed list of things you'll want to have on your MO adoption home study checklist, so keep reading.
1. Required Home Study Forms and Documents Checklist
The first step in the home study process involves collecting and submitting forms and documentation required by the state of Missouri. It's wise to start collecting these documents prior to the home visit so that you can check them off your MO home study checklist early.
There may be additional documentation requested by your social worker depending on your situation, but the list below is comprehensive in most cases:
Birth certificates for each prospective parent
Social security cards for both hopeful parents
State photo ID
Marriage certificate (if married)
Proof of employment
Medical records for each potential parent
Immunization records for both prospective parents
An autobiographical statement from each prospective adoptive parent
Proof of citizenship or proof of legal immigration
Pet vaccination records from the vet
References from non-family members
Military discharge paperwork
Prior adoption decrees
Your home study checklist in Missouri should include all applicable items from the above list. It doesn't hurt to begin collecting these documents before the process officially begins to minimize your stress and guarantee you have prepared the proper paperwork. And as always, don't hesitate to consult your adoption professional with any questions.
2. Missouri Adoption Home Inspection Checklist
For many potential adoptive parents, the inspection of the family home is a major cause of stress. However, please know your social worker won't expect a flawless, spotless household. Instead, they're only confirming it's safe for a child. To minimize stress, we recommend you get a Missouri adoption home visit checklist from your adoption professional or social worker prior to the home visit.
Your Missouri social worker, home visit checklist, may include:
Covering electrical outlets to prevent shock
Confirming that smoke alarms and carbon monoxide detectors are present and functional
Putting all firearms out of reach and securing them with locks
Placing gates on stairs or other danger zones
Securing and locking windows (including screens)
Childproofing the yard (including precautions such as guardrails around decks or pools)
Placing a basic first-aid kit in the home
Ensuring functional heating and cooling equipment
Removing other risks in the home by covering furniture corners, securing tipping hazards, and putting child locks on cabinets
Removing all lead paint
Maintaining safe, functional appliances
Though this adoption home visit checklist in Missouri isn't comprehensive, it does provide you with an idea of what your social worker will be looking for during the home visit.
3. Family Member Interview Checklist
Finally, you'll want to prepare well for the family member interviews that are part of the home study process. Your social worker will speak with everyone living in the home so that they can get to know you and the other members of your family. These interviews will help them determine whether you're truly prepared for an adoption placement.
No two social workers handle the interviews in exactly the same way. However, here are just a few of the questions to include on your MO adoption home study checklist:
What are your reasons for adopting?
How much do you know about the adoption process?
Why is adoption right for your family, and why now?
What are your dreams for your child?
Have you researched raising a child who is placed in your home through adoption?
What are your plans for parenting?
Is your parenting style influenced by your childhood? Explain your answer.
How do you feel about your marriage?
How do you feel about your job?
How do you respond to cultural diversity?
Are you open to potentially having a transracial family?
Just a reminder: the adoption home study interview isn't meant to highlight any potential shortcomings you may have. The purpose is to make sure the child stays safe and has an opportunity for a bright future as part of your family. It may be stressful, but the adoptee's safety is at the heart of the process. That's why it's so critical.
Use this MO home study checklist for the family interview portion of the process if you want to be better prepared for an adoption home study interview.
How American Adoptions Helps You Prepare Your MO Home Study Checklist
Preparing for your home study is much easier with the help of the experienced, knowledgeable adoption professionals at American Adoptions. We'll not only provide you with a thorough Missouri adoption home study checklist, we'll also guide you and coach you through every step in the adoption journey.
At American Adoptions, our specialists have helped more than 13,000 families from all across the U.S. reach their adoption goals. Our specialists aren't just compassionate and fully licensed. Many are also adoptive parents, birth parents, and adoptees themselves, so they've been through the process and can share their experiences with you.
American Adoptions is a licensed child-placement agency as well as a licensed provider of adoption home studies in Missouri. We provide all the services you need to complete an adoption, all under one roof. Many adoptive parents find they benefit greatly from working with American Adoptions. We stay committed to helping you enjoy a smooth home study experience.
Closing Thoughts on MO Home Study Checklists [Getting Ready]
It's natural to be a little stressed about your pending adoption home study. That's only natural because it's a big deal. But thanks to our experienced adoption professionals and a solid Missouri home study checklist, we can ensure you're ready for the process when it begins.
Have more questions about the adoption home study checklist? We're here to help. You can get free information now, just fill out our online contact form or call 1-800-ADOPTION when you're ready.
Disclaimer
Information available through these links is the sole property of the companies and organizations listed therein. American Adoptions provides this information as a courtesy and is in no way responsible for its content or accuracy.