What is Domestic Infant Adoption in Missouri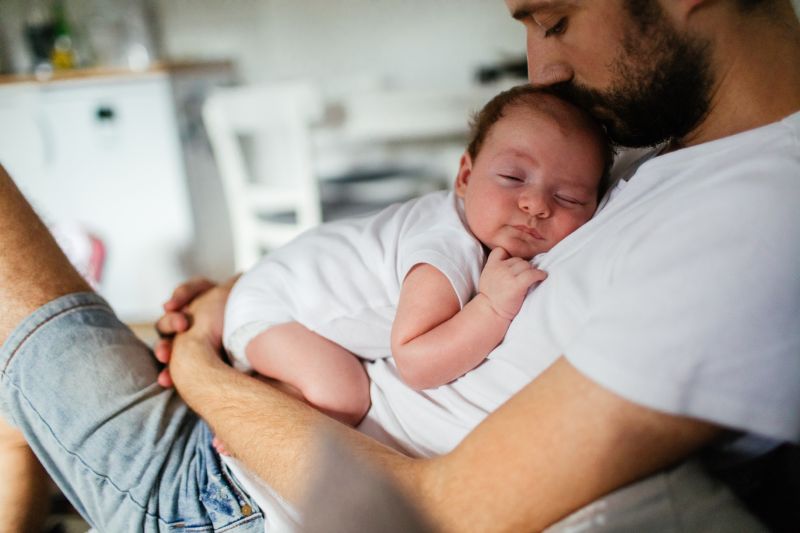 Have you considered growing your family through the adoption of an infant? If so, domestic infant adoption in Missouri is one way to do that. In fact, at American Adoptions, infant adoption in MO is our specialty. We help birth mothers, adoptive families, and adoptees by completing hundreds of successful adoptions each year.
For birth mother, Angelica, calling American Adoptions was a key step in her journey. She received full support from her adoption specialist during the domestic newborn adoption process, and she appreciated the no-pressure approach to making a difficult choice for the benefit of her baby and herself.
"You could tell they weren't just putting on a front to make you want to do it or push you into it," she says. "They want whatever you want, and that's what they told me during the whole process. It wasn't up to them; they were just going to be there for me no matter what decision I made."
American Adoptions has helped build more than 13,000 families over the course of three decades, supporting expectant birth mothers, prospective adoptive parents and adoptees through the domestic adoption of infants in Missouri. If you'd like to find out how we can help you, please call 1-800-ADOPTION or complete our online form to speak to a specialist.
Below, we'll thoroughly cover domestic infant adoption in Missouri. Keep reading to find out more.
What Types of Adoption Are There in Missouri?
In Missouri, domestic newborn adoption is one of three ways you can build your family by opening your home to a child. Parents who are considering adoption often begin their personal journey by choosing between foster care adoption, international adoption, and U.S. domestic infant adoption in MO.
What is Domestic Infant Adoption in Missouri?
Private domestic adoption is defined as the adoption of infants in Missouri directly from a birth mother after the child is born. Birth mothers voluntarily place their baby in the home of a family that they choose after completing an adoption plan. Because of its many benefits, newborn baby adoption in MO is the most common type of adoption in the state.
National domestic infant adoption agencies like American Adoptions connect expectant birth mothers with waiting adoptive families nationwide. American Adoptions and local Missouri domestic newborn adoption agencies assist both birth mothers and adoptive families with this process.
Seeking an infant domestic adoption in MO is best done with the help of a private agency, especially if you want an open adoption that allows free communication between the three parties in the adoption triad.
There are both local and national agencies that perform infant adoptions in MO, but many expectant birth mothers and hopeful adoptive families find that choosing a national private adoption agency comes with many advantages.. As the best national private adoption agency, American Adoptions offers industry-leading benefits such as:
While it may be true that local agencies can offer more in-person meetings and more face-to-face interactions with birth mothers, American Adoptions of Missouri gives you both the reach and scope of a national agency plus the personal touch of a local organization. It's important to note that while many local agencies can offer the services you need, they often work with fewer birth mothers, which can greatly impact your wait time. If their current list of waiting families is full, it could take you years to complete an adoption. That's why many hopeful adoptive families choose American Adoptions for their newborn baby adoption needs in Missouri.
To begin your adoption journey with American Adoptions, call 1-800-ADOPTION or complete our online form today.
What is Foster Care Adoption in Missouri?
Children you are in foster care are being cared for by the state temporarily after a child has been separated from their family for a variety of reasons. Though the goal of foster care is always to reunify the child with their biological parents, that's not always possible. When reunification attempts are legally exhausted, foster care adoption is an option.
Unlike domestic newborn adoption in MO, foster care adoption usually involves older kids. Sometimes, children in foster care who have special needs have lived through traumatic events. Adopting through foster care is far less costly than adoption for newborn babies in Missouri, which is perfect for potential parents who want to adopt an older child. However, adopting a child through the foster care system can also take significant time.
If you'd like additional information about foster care adoption in Missouri, contact the following:
What is International Adoption in Missouri?
International adoption involves the adoption of children with a wide range of ages from nations other than the U.S. Once a popular way of building a family, the strict and constantly changing rules surrounding international adoption has made it the least common form of adoption now. There's been a rapid decline recently in the practice, which is why the popularity of domestic infant adoption in Missouri is continuing to increase.
Still, many families have connections to foreign countries and cultures and feel like international adoption is worth fulfilling the extra requirements and withstanding some uncertainty.
If you plan on pursuing an international adoption, you'll need a Hague-accredited international adoption. To find one, you can contact the following agencies:
Why Should You Choose American Adoptions for Your MO Domestic Infant Adoption?
When you work with American Adoptions of Missouri, you can take comfort in knowing that our adoption specialists are trained and experienced in supporting everyone involved in the MO newborn adoption process. Not only does our staff consist of highly trained social workers, but many are also birth mothers, adoptive parents, and adoptees themselves.
Michelle, a birth mother who is now a member of our staff, explains what working with American Adoptions means to her and how she is committed to sharing her experiences with others in her situation.
"I really look forward to continuing to work with American Adoptions and all of the wonderful staff who are dedicated to making the lives of birth parents, adoptive families, and the child as successful and happy as possible," says Michelle. "I am available to answer any questions that arise, particularly from birth moms, as I have been in your shoes and know how you are feeling. It was most helpful to me when I had someone to talk to who would just listen to me without making any judgments or conclusions about who I was as a person."
For prospective adoptive families, working with American Adoptions means building the foundation for an ethical, compassionate adoption experience. Sure, you'll get top-tier service, shorter wait times, adoption disruption protection, and transparent pricing. But you'll also know that our staff is fully invested in creating a successful adoption for everyone involved.
Adoptive parents Justin and Jenna said their adoption story touched so many people, and through the domestic infant adoption process, they developed a lifelong love for their child's birth mother.
"You have this relationship with this woman for such a short time before it all happens, but she is going to always be our hero," she says, "and we will always love her."
When you choose American Adoptions, you'll be supported by professionals who offer empathy, wide-ranging experience, and the skills to build successful adoptions. You won't have to search externally for needed services. As a fully licensed agency, we can offer everything you need to complete newborn adoptions in MO, including home study services.
Below are some of the MO domestic infant adoption services we offer.
Counseling and Information
American Adoption's compassionate, experienced specialists can help you get answers to all your important questions about the MO domestic newborn adoption process.
Expectant birth mothers get:
Prospective adoptive parents get:
Matching Services
No agency will work harder and bring more resources to bear than American Adoptions of Missouri when it comes to finding a perfect adoption opportunity. We complete hundreds of adoptions nationwide each year, and we strive to find the best match for everyone in the adoption triad.
Expectant birth mothers get:
Prospective adoptive parents get:
Financial Protection and Support
We know that you may have many financial concerns related to newborn adoption in MO. However, rest assured that American Adoptions provides 100% financial protection to all our active adoptive families pursuing domestic infant adoption in Missouri.
Expectant birth mothers get:
Prospective adoptive parents get:
Closing Thoughts on Domestic Infant Adoption in Missouri
If you're considering Missouri domestic infant adoption as a way of building the family you've always dreamed of, first, we'd like to say congratulations. But we also want to tell you that at American Adoptions, we're here for you. We want to use our expertise and empathy to help everyone involved have the best possible adoption experience.
If you're ready to take your first steps, all you have to do is call 1-800-ADOPTION or complete our free online form to speak with one of our skilled professionals today.
Disclaimer
Information available through these links is the sole property of the companies and organizations listed therein. American Adoptions provides this information as a courtesy and is in no way responsible for its content or accuracy.