Adoptive Family Screening in Missouri [How it Works]
Finding Safe and Approved Families for Your Baby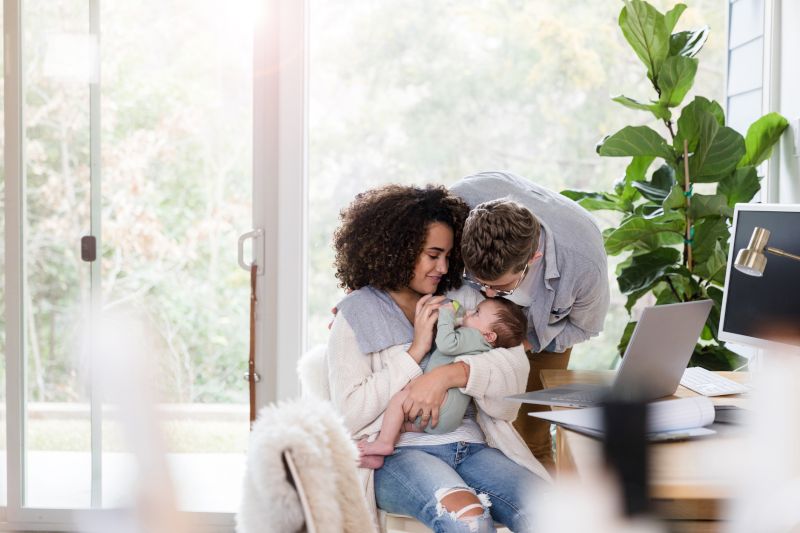 Working with American Adoptions of Missouri ensures the adoptive parents you choose are ready to be the best parents, giving you peace of mind knowing your child is going to a safe and loving home.
Our trusted and experienced adoption specialists are waiting to speak to you about your adoption plan and answer any questions you have about finding an adoptive family.
When you call 1-800-ADOPTION, you can get more information about the adoption screening process in Missouri and how we only work with adoptive families ready and able to provide your child with a safe and loving home. You can also get more information online.
This guide on our adoptive family screening process and what that means for your adoption in Missouri will give you an overall rundown of how you can feel confident that the adoptive family you choose has been thoroughly screened.
The Missouri Adoptive Family Screening Process
Prospective adoptive families must meet legal requirements in their state and with their adoption agency before they can adopt. The Missouri adoptive family screening process determines the safety of their home and whether they can provide for a child both financially and developmentally.
This process is an important step in the adoption process and, as your adoption agency, we are looking out for you. You deserve to find an adoptive family that meets your specific needs and can give your baby the best possible home.
When it comes to the adoption screening process, the completion of an adoption home study with a licensed social worker is the key to determining a prospective family's readiness to adopt your child.
How a Home Study Determines Readiness for Adoption
All of our adoptive families complete a home study. This process can vary from state to state in terms of the specific requirements, but the Missouri home study typically includes:
In-home visits from a licensed social worker
Background checks
Interviews with every member of an adoptive family's household
Financial statements and reviews to ensure a family can provide for your child
And more
We know you want to find an adoptive family for your baby that can provide a safe, stable and loving home. That's why you can feel confident knowing as your adoption agency, we are only working with families that have passed their Missouri adoption home study and are fully prepared to adopt.
More information on the home study is available when you connect with one of our adoption specialists by calling 1-800-ADOPTION. You can also complete this online form to get more information on adoption and the screening process for prospective families in Missouri.
The Safest Way to Find Adoptive Parents
Because you are in control of the adoption process, you get to choose the adoptive family you feel gives your baby the best future.
By working with our agency, you know our families are screened and fully prepared to adopt a child. Once you've looked through our video profiles and picked out a family, you have the opportunity to meet them and get to know them through pre-placement contact.
In an "open" or "semi-open" adoption, you can begin developing a lifelong relationship with the adoptive parents you choose. This process also gives you the chance to ask important questions and find out more about their background to confirm your feelings about them as adoptive parents for your child.
Families Wanting to Adopt Your Child in Missouri [Find the Perfect Adoptive Family]
Prospective birth mothers commonly wonder, "Who is looking to adopt my baby?"
Everyone has their reasons for choosing the path of adoption. Our birth mothers have unique circumstances that make adoption a safer and better option than parenting.
Adoptive families choose adoption for different reasons as well. The important thing to remember is each adoptive family we work with has passed a home study and shown their readiness for giving your child a stable and loving home.
Something to keep in mind is adoptive families are often anxious about making a good impression on you. Jenna and AJ are a perfect example of this.
"I was actually really nervous; AJ was a lot calmer, which isn't always the way it goes," Jenna said. "Part of my nervousness was the thought that, 'Gosh, if this woman is going to bless us with her child, then we want to have a relationship with her, and what if this doesn't go well, you know?'
"But, when we started talking during the conversation, it was just awesome."
As much as you want an adoptive family to be the right fit, they want to be the right family for you. Open adoption and the chance to get to know each other can help the both of you connect on a deeper level and give you the confidence in knowing it's the perfect match.
Before you choose an adoptive family, these are some things to consider to help you find the right parents for your baby:
What type of environment do I see my baby growing up in?
Do I want my child to have siblings?
What age range do I prefer for an adoptive family?
Do I want my baby to have adoptive parents that follow a similar religious faith?
And more
These questions and many more are examples of the specific details in an adoptive family that you can determine important or unimportant for your child. You're in the driver's seat of your adoption plan and the adoptive family you feel is right for your adoption.
Your Role in Finding a Family [Following Your Heart]
Finding adoptive parents for your child isn't always cut and dry. It shouldn't be formulaic. When searching through video profiles of available adoptive families, you may find that despite your specific requirements for a family, you come across a profile that gives you the feeling of instant connection.
Jenn and Keith were a family afraid that Keith's physical disability would be a turnoff for prospective birth moms. As it so happens, their ability to overcome and stay positive in the face of adversity is exactly why their birth mother Angelica chose them for her baby.
"It was kind of wild that the thing I thought was going to hold us back was the reason why she chose us," Keith said. "It was perfect. Everything that I would have wanted in a birth mother, she was — very open and very honest."
While you can feel confident in knowing every family our agency works with has been through the Missouri adoptive family screening process and determined to be ready for adoption, you are ultimately the individual in control of finding the right family for your child. Along the way, you'll have all the support and guidance you need from our agency.
You may also find yourself in a situation where after meeting a family for the first time, you feel as though they aren't the right fit. In that case, you can find a different family better suited for what you want for your child.
This is your adoption and you are in control. We are here to support you, provide you with the services you need and present you with available adoptive families ready to give your baby the perfect home.
Get in touch with one of our adoption specialists today by calling 1-800-ADOPTION or by filling out our online form. We are ready to help you create an adoption plan and find the perfect family for your baby.
You and your child deserve to work with the best adoption professionals that can help you find a loving family — and American Adoptions is here to help.
Disclaimer
Information available through these links is the sole property of the companies and organizations listed therein. American Adoptions provides this information as a courtesy and is in no way responsible for its content or accuracy.