Adopting a Child in Missouri [5 Essential Steps]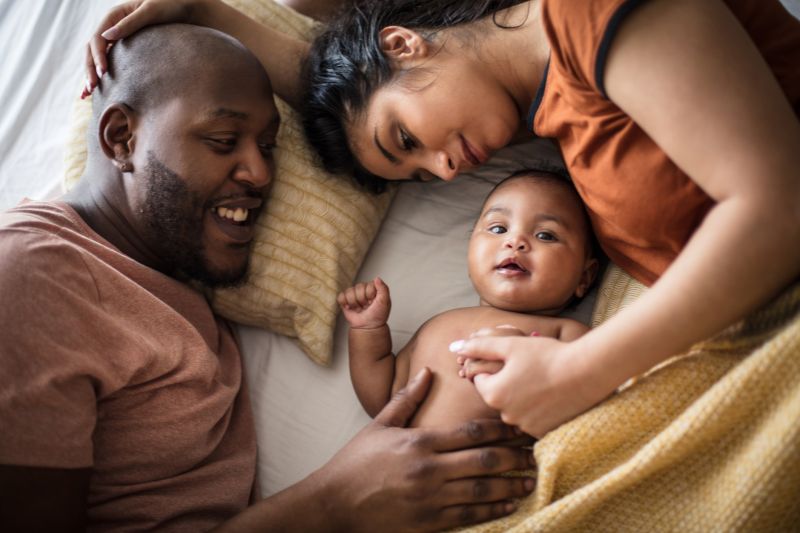 You can accomplish your dream of adopting a child in Missouri, but is adoption the best option for you and your family? American Adoptions of Missouri can help you find out.
We know that you need time to decide if domestic newborn adoption is right for you, and you need the freedom to choose when to begin the adoption process.
Whether you are diligently doing your research on adopting a child in Missouri, or you have recently become curious about adopting in Missouri, read below for information, tips and resources. If you're ready to get started today, you can contact an adoption specialist at American Adoptions anytime online.
Now, let's take a look at how to adopt a baby in Missouri.
How to Adopt a Child in Missouri
Know that Adoption is Right for You

Contact American Adoptions

Begin your Adoption

Accept an Adoption Opportunity in Missouri

Complete Placement (and Finalization)
Step 1: Know that Adoption is Right for You
Adoption is a life-changing event for adoptive parents, birth parents and the adopted child. The adoption process is different for everyone, and with American Adoptions professionals available to guide you, your adoption story can be a series of happy memories.
Have you considered whether adoption is right for your family? If you're still trying to decide, it may be helpful to hear some reasons why adoption could work for you.
Infertility is one of the most common reasons that families choose adoption in Missouri. If this is the case for you, make sure you have taken the time you need to grieve, accept, and move forward from infertility. American Adoptions can provide counselors to help you process the challenging emotions of infertility and prepare for adoption, when you're ready.
Same-sex couples may want to adopt children in Missouri. According to Missouri law, you are free to adopt if you meet the requirements to become prospective adoptive parents. Our agency staff at American Adoptions is proud to support LGBTQ partners pursuing adoption as a way to start or grow your family. We want everyone who is willing and able to adopt a child to be able to do so.
For some people, you may just know you want to adopt children, or you feel called to adopt at some point in your life. Other adoptive parents are also adoptees who want to share that positive experience with a child that needs you. Others may simply know that adoption is the right thing to do for your family.
Whatever the reason, you can rest assured that American Adoptions supports your decision to adopt, and we are glad that you trust us to help you through the adoption process.
Once everyone agrees that adoption is your best option, it's time to move forward with your Missouri adoption process.
Step 2: Contact an Agency (Like American Adoptions)
Adoption agencies provide the services and support you need to successfully complete an adoption in Missouri.
What will your adoption agency do for you? Agencies can:
Provide counseling and education to you and your family

Perform your background checks and family interviews

Perform your home study

Promote you to birth mothers as prospective adoptive parents

Help you communicate with your birth mother

Get you through the adoption legal process

And more
Why choose American Adoptions? Choose us because we work hard to help you have the best possible adoption experience. Our agency staff includes adoptees, adoptive families, and birth parents. We are living proof of the power of adoption. We understand the journey you are going through and we will always provide the best support for your adoption in Missouri.
With American Adoptions you will get over 30 years of domestic infant adoption experience, the highest standards of comprehensive service and individualized care and support for your entire Missouri adoption process.
"Even though adoption was the hardest decision I will ever make in my life, American Adoptions also made it the best decision I've ever made in my life." — Erika, a birth mother
If you live in Missouri and you want to adopt now, please contact an adoption specialist at American Adoptions. You can reach out to us online at any time to learn about how to adopt in Missouri.
Step 3: Begin Your Adoption
This is the part you've been waiting for. Once this step is complete you will officially be a prospective adoptive parent, closer to your dream of adopting a child in Missouri. To start your process, you'll take a few steps with the help of your adoption specialist.
You will complete the Adoption Planning Questionnaire (APQ) which has important questions for you about your future child. The APQ will ask you the desired race of your child, your adoption budget, desired contact arrangement with the birth parents, and more.
Together, you and your adoption specialist will create your unique family profile to help birth mothers find you (and videos). By working with an agency like American Adoptions that is both local in Missouri and national across the U.S., you will increase your adoption matching opportunities and decrease your wait time.
Next, you will need to complete your adoption home study. For domestic infant adoption in Missouri, state law requires that you undergo home visits, background checks and interviews to determine that your child will be in a safe and stable home. Because we are a fully licensed agency, American Adoptions can provide the home study service you need.
You can prepare for your child's arrival by investing time and energy into educational adoption materials (like reading our American Adoptions blog) while you wait.
Step 4: Accept an Adoption Opportunity
"Hello, this is American Adoptions calling to inform you that a prospective birth parent has chosen you to adopt their newborn!"
Can you imagine the thrill and excitement those words will give you? We've given thousands of adoptive parents this news. While it may seem far away right now, you can experience this life-changing moment, and we will help you get there.
Once you accept an adoption opportunity, you'll have a chance to get to know the prospective birth mother before placement. Keep in mind that prospective mothers may choose you even if they do not meet your preferences, or you can accept an opportunity outside of your preferences if given the option.
We highly value and encourage open adoption in Missouri.
This means that birth parents and prospective adoptive parents communicate with one another (the frequency is determined by an agreement on both sides).
Open adoption promotes a happy and healthy adoption experience, and research has proven the benefits for everyone involved in the adoption.
The way your adoption goes is not set in stone. The communication level that you requested in your APQ can increase or decrease at any time throughout the adoption process. Your adoption specialist will help you make any adjustments that work better for you during your adoption in Missouri.
Step 5: Complete Placement (and Finalization)
Emotions are often overflowing on all sides at this critical point of the process. When the time comes, you'll receive a phone call that it is time to travel to the hospital.
The birth mother and her social worker have determined an adoption birth plan that directs how this time will go. It is possible for you to be in the delivery room and be the first to hold your newborn baby, depending on what makes the birth mother feel comfortable.
When you're at the hospital and the baby has been born, the birth mother will be able to sign her adoption paperwork a minimum of 48 hours after the birth of the child, according to Missouri newborn adoption law.
Once the birth mother gives consent, then your baby can be placed with you. This is the life changing moment many hopeful parents have been waiting for.
Once placement is complete, you'll still need to finalize the adoption. Your adoption specialist will work behind the scenes preparing for your newborn adoption finalization.
During the six months after you take your baby home, you will continue to have post-placement visits to ensure that everyone is adjusting to life together.
At the six-month mark, you will attend a court hearing for adoption paperwork overview and the final decision by a judge.
With these five steps, you can complete an adoption in Missouri with the help of American Adoptions.
Would you like to learn more or get started today?
For help navigating this process of domestic newborn adoption in Missouri, contact American Adoptions today. You can get more free information when you contact us online at any time.
Disclaimer
Information available through these links is the sole property of the companies and organizations listed therein. American Adoptions provides this information as a courtesy and is in no way responsible for its content or accuracy.