Finding an Adoptive Family in Missouri [View Family Profiles Today]
Your Guide to Finding the Perfect Family for Your Baby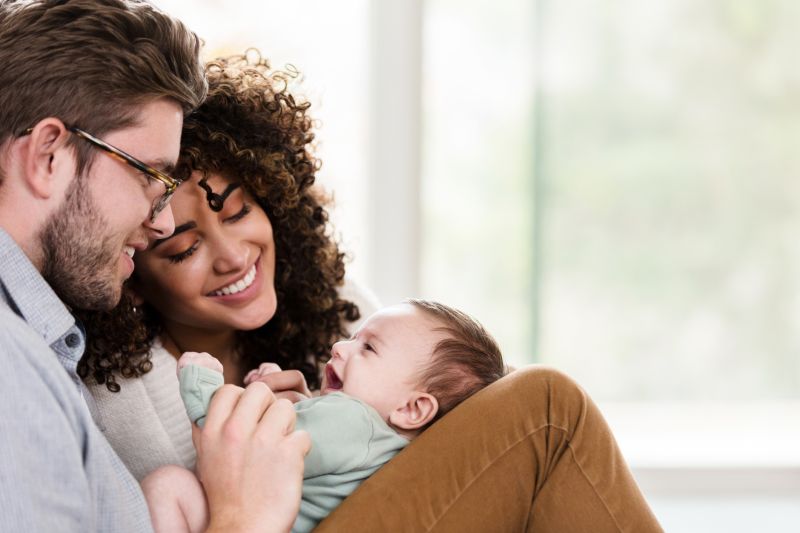 By choosing adoption in Missouri, you are in control of the entire process, including finding the perfect adoptive family for your baby.
Decide what personality traits and other identifiable characteristics are important to you when looking for parents to adopt your baby.
You can begin creating an adoption plan and view video profiles of families looking to adopt a baby in Missouri today when working with American Adoptions of Missouri.
Through open adoption, you can get to know the family and begin building a lifelong relationship with the help and guidance of a trusted and experienced adoption specialist.
You can always get more information on the adoption process and finding an adoptive parent in Missouri for your baby by calling 1-800-ADOPTION or completing our online form to connect with an adoption specialist.
Before you begin your adoption journey with us, we've put together this guide on finding the perfect adoptive parents for your baby.
One of the many benefits of choosing adoption for your baby is the control you have in the adoption process. What you need and what you feel is important for you and your child is exactly what we'll focus on when creating your adoption plan.
This includes the process of finding couples looking to adopt a baby in Missouri.
Your Adoption Plan and Deciding What the Perfect Adoptive Family Means to You
The choice of adoption isn't easy, but you've determined that parenting isn't an option and adoption is the chance for you to give your baby a chance at having the best life possible. That is not only a decision of pure love, but it's also heroic.
Because you've decided to create a better future for everyone involved through adoption, you can now turn your attention to creating an adoption plan and finding a family ready to adopt a child in Missouri.
Your adoption specialist will help you list the personality traits and identifiable details you feel are important in an adoptive family looking to adopt your baby. These could include:
Their age
Location
Religious beliefs
Lifestyle choices
Sexual Orientation
Ethnic and cultural background
And more
What you envision for your adoptive family and your adoption journey is what dictates your adoption plan. When you call 1-800-ADOPTION and get connected with an adoption specialist, you can discuss what's important to you when finding a family and how to get started today.
How to Find Adoptive Parents for My Baby in Missouri
Once you've detailed the various personality traits and criteria for an adoptive family, your adoption specialist will begin showing you video profiles of families ready to adopt a baby that match what you stated as being important.
When you've found a family that you feel meets your needs and you feel would be a great fit for your baby, your adoption specialist will help prepare you for the next steps, starting with meeting your family for the first time.
Many of us are adoptive parents, birth mothers and adoptees, which means we know what you're going through and the type of services you need to have a safe and smooth adoption experience.
Take it from Scott Mars, founder of American Adoptions, and an adoptee himself.
"My mom and dad were a couple who weren't able to become a mom and dad without adoption. Of all people in this world, my mom and dad deserve to be parents. And without adoption, they would not have been able to share their love, share their life, and give someone the life that I had.
"Because of adoption, my life was filled with love and opportunity." You can watch Scott's video to see his entire adoption story.
An adoption specialist with our agency is ready to speak to you today and get you the information you need on finding a family for your baby. Call 1-800-ADOPTION or fill out this form today to get connected with one of our experienced specialists!
In the meantime, we want to answer all of your questions about what it's like to find families ready to adopt a baby in Missouri.
What are Adoptive Family Profiles?
When an adoptive family becomes active, they will create what is known as an adoptive family profile. This is a chance for them to show their environment and give some background to their story, why adoption is important to them and how they intend to raise a child.
In many cases, you can view adoptive profiles of families who currently have kids, giving you a look into what it might be like in a sibling environment.
Agencies help families make these profiles, and some do it better than others. If you work with a smaller agency, you may get an envelope with some pictures and a letter. This can be nice, but it's not much to go off when choosing the family who will raise your baby. We think you deserve better, which is why all of our families create video profiles.
These video profiles help you get to know the family on a surface level before meeting them for the first time. This is the opportunity to begin thinking of good questions to ask so that you can better determine whether they are a match for you and your baby.
Are you ready to start searching available video profiles to find a family to adopt your baby? Call 1-800-ADOPTION or fill out this form to get started today! You can get more information on how to find couples ready to adopt in Missouri as well as how to develop good questions to ask during your first meeting with the family.
Why are Families Looking to Adopt a Child?
This is a common question our prospective birth mothers have. Because you're choosing a new and permanent home for your child, you of course want to know as much about the adoptive family as possible.
This can include wanting to know why they are interested in adoption. Like you, a prospective adoptive family has a story that's led them to adoption. In most cases, you'll get at least part of that story in their video profile.
Why a family is choosing adoption is something you can certainly ask when you meet them for the first time. We ask that our families remain open in their adoption, which means you have every opportunity to get to know them better and ask questions you feel are important.
Misty and Mike are an adoptive family that chose adoption because of several reasons, including struggling with infertility.
"We had such a long road, and we were so used to getting bad news, that we were gearing ourselves for that," Mike said.
Their continued hope for the chance to adopt a child and bring a baby into their loving home became a reality when they finally met an amazing birth mother. Through open adoption, they bonded with their birth mother right away.
"I think sometimes we become afraid, like, 'It will be so hard to bond with the birth family,' but sometimes it's just sitting down with coffee and getting to know people," Mike said. "It was so easy… it felt like we knew them already."
Regardless of the circumstance, there are hundreds of adoptive families ready to adopt your baby in Missouri. The reason behind choosing adoption is different for everyone. The most important thing to remember is there is a loving family out there prepared to give your child an amazing life.
Can You Choose a Family from a Different State?
Yes! You can choose a family from another state if you feel like they match all the qualities you believe are important for you and your child. In some cases, prospective birth mothers choose adoptive families based on their location.
Because you are working with our agency, you get the benefit of having a large national reach to available adoptive families. This gives you a better chance of matching with a family that fits your specific needs.
Can I Change My Adoptive Family?
Absolutely.
You are in control of your adoption plan. This means choosing the perfect family for your child.
This can also mean after sitting down with an adoptive family, you decide they are quite fitting what you had envisioned after seeing their profile. You can talk to your adoption specialist about your desire to find a different family.
Remember: your adoption is about you and what you feel is best for your baby. If an adoptive family you've chosen doesn't feel like a good fit, you have every right to choose a different family.
To get more information on finding adoptive parents to adopt your child and how changing families is possible, call us at 1-800-ADOPTION and get your questions answered.
Pre-Placement Contact and Getting to Know the Adoptive Family [The Beginning of a Lifelong Bond]
As the birth mother in the driver's seat of your adoption, you can also decide on the openness of your adoption. We strongly recommend an open adoption, which has become the most common type of adoption over the last several decades.
Caitlin, a birth mother who placed a child for adoption through our agency, can't imagine life without an open adoption and connection with the adoptive family.
"Knowing that I can be around and be there — I don't even know how to put it into words… I'm like a cheerleader on the sideline, and that's more than I could have asked for," she said of her open adoption relationship. "He gets this family who can take care of him and do everything I couldn't, but he can also know that I didn't just give him away. I had a purpose for him, and it was meant to be."
In an "open" or "semi-open" adoption, you can build a lifelong relationship with the adoptive family and remain connected to your child.
How much contact do you want during the adoption process? That's entirely up to you. While we always recommend at least some level of openness in your adoption, the amount of and type of communication you take part in is your decision.
You can communicate and stay connected with the adoptive family through the use of:
Phone calls
Letters
Video chats
In-person visits
And more
You can get more information on open adoption and how to find a family to adopt your baby in Missouri when you call 1-800-ADOPTION to speak to one of our experienced adoption specialists.
Post-Placement Contact and Staying Connected After Your Adoption
It can be exciting to find a family to adopt your baby, but the happiness and joy of bonding with the adoptive family won't end with the completion of your adoption.
When you choose an open adoption, you get to continue building your relationship with the adoptive family long after the completion of your adoption. As with any relationship, the dynamic can always change and reinvent itself.
The goal is to figure out what type of communication works best, how much contact is wanted or realistic and how you wish to stay connected to your child.
Choosing adoption and having control over finding a family led Randi to Matthew and Katheryn and the three of them made an immediate connection and remain connected to this day.
"Every picture brightens my day. There are two things I check every day, the blog and my Facebook," Randi said. "When I see a random picture that she [Katheryn] puts on there, it just makes me feel like she's not forgetting about me, and keeping up with what she said she was going to do."
It can be overwhelming to think about your post-placement relationship with the adoptive family, but because you are working with a trusted and experienced adoption professional who created an adoption plan tailored to your needs, you can feel confident knowing your post-placement contact will be with a family that matches everything you wanted in a family for your baby.
By working with a large national agency that still has local ties like American Adoptions, you have a much greater chance of finding a family in Missouri that not only gives your baby a loving home but one that you can connect with as well.
You can experience the joy of a lifelong bond with a family ready to adopt your child by calling 1-800-ADOPTION or by filling out our online form, today.
What is the Best Way to Find Adoptive Parents in Missouri?
When you've decided parenting isn't an option and you want to place your baby for adoption, the answer to that question boils down to one key decision; working with a trusted, licensed and experienced adoption agency that can connect you with available couples ready to adopt a child and that have been screened and deemed ready for adoption.
All of our families go through a screening process of determining their readiness for adoption, including a questionnaire before they become active, as well as passing an adoption home study with a licensed professional.
Wouldn't it be better to have unlimited options for finding couples ready to adopt? You get access to a large, national database of available adoptive families looking to adopt a baby when you work with our agency.
You can find a family to adopt your baby in Missouri today by calling 1-800-ADOPTION. To get answers to your questions about the adoption process, you can ask Michelle, a birth parent specialist and a birth parent herself, ready to answer any questions you have about putting a baby up for adoption.
"I am available to answer any questions that arise, particularly from birth moms, as I have been in your shoes and know how you are feeling."
Disclaimer
Information available through these links is the sole property of the companies and organizations listed therein. American Adoptions provides this information as a courtesy and is in no way responsible for its content or accuracy.