What is Gay Adoption in Missouri Like?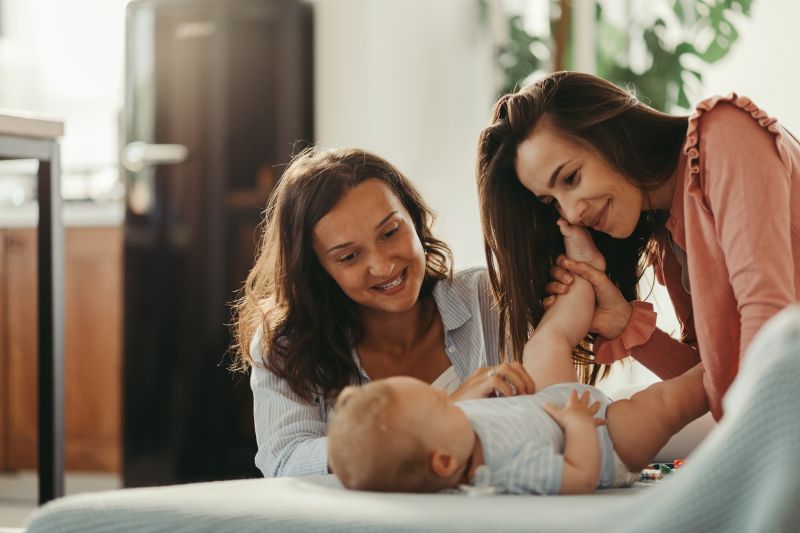 Adoption is a beautiful, life-changing journey. If you're an LGBT couple who has always wanted children, then you're probably wondering what your options are for gay adoption in Missouri. You may be wondering:
"What is Gay Adoption in Missouri like?"
"What are the best LGBT-friendly adoption agencies in Missouri to work with?
"Is a same-sex stepparent adoption in Missouri possible?"
The first thing we want you to know is that this option is more available than ever. Today, families are only becoming more and more diverse. But no matter how they were formed, they have the most important thing in common: they became a family.
Many of the barriers that once prevented same-sex couples from adopting have come down. This means that you have just as much right to give a child the gift of a loving, stable home as any heterosexual couple.
In this guide, we'll go over everything you need to know for a Missouri same-sex adoption. But if you'd like to learn more about how one of the best LGBT-friendly adoption agencies in Missouri can help you, then contact us today! We can be reached at any time through our free online form.
In the meantime, here is some helpful information about gay adoption in Missouri.
How Gay Adoption in Missouri Works
Generally, gay adoption in Missouri works very similarly to any other type of adoption. Especially with an agency like American Adoptions, you'll experience the same wait times, costs, and services as any other couple that we work with. Whether you plan to adopt domestically, internationally or through foster care, your sexuality should have no bearing on your adoption experience.
With all that being said, there are some additional considerations you should think about when you decide to adopt as an LGBT couple:
Adopting internationally: It is easier, now more than ever, to adopt a child domestically, even for same-sex couples. However, the same can't be said for every country. If you're thinking of adopting internationally, you'll have research whether the country you're interested in will work with a Missouri same-sex adoption. Take the time to carefully consider this path before choosing this type of adoption.
Preconceived ideas about same-sex adoption: Although opinions about same-sex couples and adoption continue to change, it's still possible to experience prejudice and discrimination. When you start your gay adoption in Missouri, it's important to be aware of this possibility. As your child gets older, you'll need to be prepared to talk to your child about the many beautiful ways families are made.
Whether you're hoping to start or grow your family, an LGBT adoption can be an incredible experience. And if you're interested in adopting domestically, we'd be more than happy to help. Please fill out our free information form today to get started:
Common Questions About Missouri Same-Sex Adoption
Making the decision to adopt is a big step. It's normal to have many questions when you're just starting out and feel unsure of where to look first. That's why we've compiled a list of some of the most common things LGBT couples wonder about gay adoption in Missouri. Take a look below to find the answers to your questions.
Are there Missouri Laws on Gay Adoption?
The state of Missouri allows single and same-sex couples to adopt. There are no explicit prohibitions against same-sex stepparent adoption in Missouri as well.
Can Gay Couples Adopt in Missouri?
Yes! Gay adoption in Missouri is possible. All LGBT couples can adopt in all 50 states. However, it's important to find and work with an adoption professional that is LGBT friendly.
When Was Same-Sex Adoption in Missouri Legalized?
Same-sex adoption became legal in 2016 in all 50 states. And with the U.S. Supreme Court ruling in 2015, the U.S. continues to move towards equality. The court protects the rights of gay couples to adopt in the United States. However, just like any couple heterosexual or otherwise, not just any couple can adopt. You should still of course take the time to research eligibility requirements like marriage status, age and more, based on the state you live in.
Was There an Missouri Gay Adoption Ban?
Yes. Up until 2016, Missouri banned LGBT adoption. In fact, it was the last state to overturn the ruling. Today, gay adoption is legal in all states, including Missouri.
LGBTQ-Friendly Adoption Agencies in Missouri [Finding Support from American Adoptions]
At American Adoptions, we know that a family is more than biology. Family is love.
No matter who you are or where you come from, we are proud to work with any and every adoptive family — and that includes LGBTQ hopeful parents considering gay adoption in Missouri.
Because we're a national, full-service adoption agency, we can offer many services that smaller local adoption agencies can't match. We work with more prospective birth parents than any other agency at the same time, which means that you won't have to wait as long to build the family of your dreams.
You can also feel confident during your adoption because of our risk-sharing program in the unfortunate event of a disruption to protect our family's investment. And because we're licensed in Missouri, we are equipped to handle every part of your same-sex adoption in Missouri. From the home study to post-placement contact, we'll be there for you every step of the way.
For these reasons and many others, we're honored that so many families have chosen us as their preferred agency:
"Lyndsey and Marie agreed they needed a full-service agency that could provide the services their daughter's birth mother didn't receive. It just so happened that a friend of theirs had adopted through American Adoptions. After talking to their friend and an adoption specialist, they knew it was the right choice for them."
If you're ready to take the next steps in your adoption, then we'd be happy to be the right agency for you. We know how important this decision is, which is why we're prepared to offer all the information you need for a gay adoption in Missouri. To learn more about Missouri adoption agencies, LGBT adoption in Missouri or Missouri laws on gay adoption, please fill out our free information form.
Disclaimer
Information available through these links is the sole property of the companies and organizations listed therein. American Adoptions provides this information as a courtesy and is in no way responsible for its content or accuracy.