1-800-ADOPTION
Thank you for viewing our profile
If you would like to learn more about us, please call 1-800-ADOPTION (2367846), fill out the form at the bottom of our on-line profile page, or email us at bp_information@americanadoptions.com.
To revisit our on-line profile page and view our profile video at American Adoptions, simply use your mobile phone to scan the QR code on the right. We are looking forward to hearing from you!
Joseph & Jessica
We know adopting is a gift and we are honored to be considered. We can't imagine how challenging this decision must be for you, and we hope it eases some of your worries knowing that through our unconditional love, patience, and devotion we will be truly excellent parents to your child. We have so much love to give and we would be overjoyed to welcome another child into our home.
About Us
Education
Master's Degree in Medical Science of Anesthesia
Master's Degree in Medical Science of Anesthesia
Relationship
Legally Married
Discussing Adoption
Adoption is something near and dear to us not only because of our own son, but also because Jessica's father was adopted and many of our friends have gone through adoption. From day one, adoption is something that we celebrate in our family. Our son Augustus (Augie) is adopted and we celebrate his birthday and his adoption finalization day each year. We know when he gets older he will love having two birthday parties every year. Both children will always know how lucky they are to have so many people who love them.
We will tell them how their birth mother loves them so much and how we love them so much. We start communication about adoption with children through books geared toward adoption and make sure they are comfortable asking as many questions as they can. We believe if we focus on our gratitude toward their birth parents and the love we have for them, the child will grow up with a healthy self-image.
Our Leisure Time
We are a very active family. We try to go to a park with a playground or hiking trail almost every day. Having a toddler in the family has made our free time even more fun with playing and spontaneous dancing. If we have a nice day off work, we love to go to the zoo and see all the animals. Joe enjoys wakeboarding with friends in the summer, ski trips in the winter, and just relaxing at the lake in between. He is a natural at water sports and loves to teach others.
Jessica is always crafting in her free time or experimenting with new recipes - as she is an excellent chef. In the evenings we love to snuggle up on the couch with some popcorn and watch family movies. We love to travel and can't wait to travel again once things open back up.
Qualities We Love, Admire and Respect in Each Other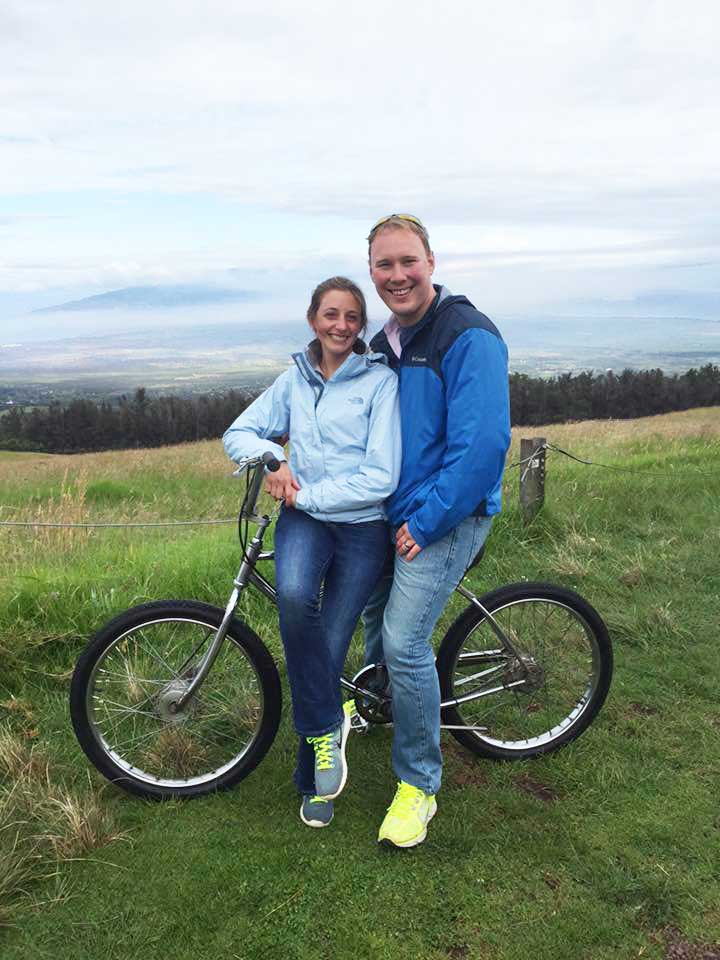 Joe is such a caring person. He is always there for any family member or friend at a drop of a hat. Joe is patient and is a great listener and he doesn't ever rush someone through a story. He is also incredibly funny. Because of Joe's great sense of humor, our house is always full of laughter. The other day he said something so funny, my mom, sisters, and I fell on the floor laughing. He is a great father. Joe is always present with our son. Always helping and offering to do diaper changes or just to help around the house. He is a great team member in parenting, I always feel he has my back.
Jessica exudes both compassion and silliness. Her bubbly happy personality is the first thing people notice and her smile becomes infectious. She is naturally nurturing and loving, always wanting to help anyone and everyone she meets (and even people she hasn't met yet). She loves deeply and freely and has a knack at being incredibly perceptive to how people are feeling. Although she has been through so much with her journey with her childhood cancer, I think it helped to mold her into such a good and honest person (almost to a fault). She is an amazing mother and our son simply adores her. She can turn any cruddy day into a positive one.
Photos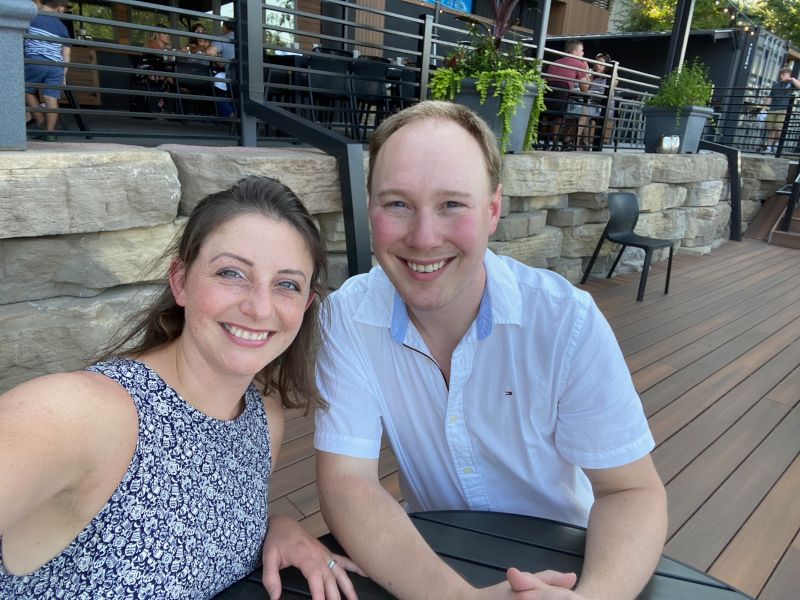 ×
1 / 12
2 / 12
3 / 12
4 / 12
5 / 12
6 / 12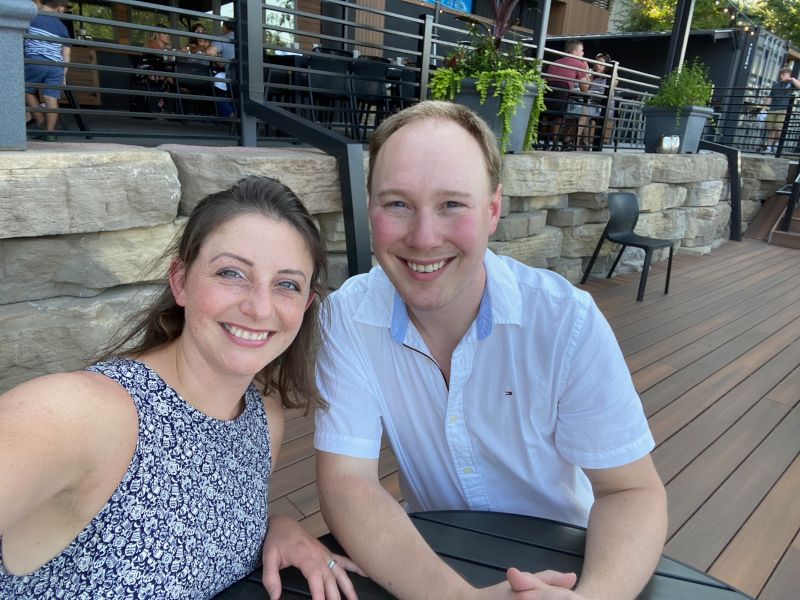 7 / 12
8 / 12
9 / 12
10 / 12
11 / 12
12 / 12
❮
❯
Our House and Neighborhood
Our home is in an active subdivision with families who are seemingly always out and about socializing, walking their dogs, or playing with their children. The neighborhood kids like to ride their bikes around the quiet cul-de-sac in front of our house. There are huge parks with beautiful biking and hiking trails just blocks away. On nice evenings some neighbors go out to the community lake and fish or play. There is also an excellent school within walking distance of our house. We live close to our family and we always have family stopping by to say hi or just hang out. We both love our backyard. It is beautiful and quiet with a lake and woods. It's a perfect backyard for friends and family to enjoy BBQ cookouts, games, or just relaxing and taking in the sunset over the lake. There is a multitude of wildlife coursing through our backyard including deer and various birds to watch from our windows; one morning we awoke to see a bald eagle perched just outside our bedroom window! We like how our home is close to shopping, the community rec-center, library and more but still has a private rural feel. It is a great place for a young family.
Our Extended Families
Our families are extremely supportive and excited for us and our growing family. Most of our extended family members live close by and we see them all the time. Joe is one of five siblings with most of his family nearby. We have two nieces and two nephews whom we love to babysit. Joe's family loves board games and it's not uncommon for everyone to meet at his sister's house for a spur-of-the-moment game night.
Jessica has two younger sisters who are very close. Her parents are so excited to welcome another grandchild to the family and to spoil them rotten! Jessica's mom is a nurse and is already planning on taking days off to spend time with her new grandbaby.
Both of our families get along great and love to spend time together. During the summer we all spend as much time as possible at the lake with Jessica's family and cousins enjoying boating, kayaking, and swimming. Our son Augie is super excited to become a big brother!
From Us to You
Thank you for taking the time to get to know us. We are blessed beyond belief because of your bravery to consider adoption. This would not be possible without your selflessness, courage, and compassion. We know you want what is best for your baby and we promise to give them a safe, stable, nurturing, and compassionate home.
We are simply blessed that you are reading our profile. What you are going through cannot be easy and we thank you for your continued courage. We don't know you yet but we are sending love your way!
A little more about us! We are currently a family of four: Jessica, Joe, Augie and Rigby — our mini-Goldendoodle. We (Jessica and Joe) are young professionals who have known each other most of their lives. After college and grad school, we married and moved back home to the midwest to settle down. We got our first house and tried to start our family - first with Rigby. He is a 30-pound fluffy red-coated mini-Goldendoodle who is now five years old and great with children. Then we could not wait to become parents - so we planned, saw specialists, made a baby room, and waited. Then we found out that it is very difficult for us to conceive ourselves. Jessica's father was adopted and so we sought advice from him as well as some friends who have adopted so that we could venture into other options that would help us achieve our dream of being parents. And our spirits were lifted as we heard such great stories and beautiful testimonies about adoption. So then we planned, talked, planned, saw adoption specialists and again — waited.
Then Augie came into our lives! Augie is currently 18 months old and a vivacious and curious little boy who loves his dog "Ro-ro" fiercely. They are nearly inseparable - and not just because Augie throws Rigby a 'treat' from his dinner plate nearly every night. It has been amazing to see how quickly and immeasurably love thrusts itself into our lives through the grace of a child. We love Augie so much and hope to one day welcome a little sister or brother into our home as well. Jessica and Joe both have siblings and we know the beauty, fights, and ultimately unconditional love that is cultivated through a family with siblings.
From the beginning, adoption is and will always be celebrated in our family. The children will be taught about where they came from and how lucky they are to come from so much love. Your child will not just have one family but multiple families that love them. We start early broaching the topic with children's books geared toward adoption and cultivate an environment where they are comfortable asking questions. We believe that if we focus on love, gratitude and support, a child will grow up with a healthy self-image. As long as you are comfortable, it would be amazing to share your child's growth and adventures with letters and photos as they grow. Thank you again for considering adoption. We hope that we have conveyed a bit of who we are, our excitement, and our passion about adopting your child. Considering adoption is truly an amazingly generous and courageous thing. You give the most precious gift possible — life. Whether you choose us or not, we pray blessings for you and your child's continued health.
Joseph & Jessica
Favorites
Actress
Anna Kendrick
Kristen Bell
Author
William Jent Kruger
Nicholas Sparks
Book
Boundary Waters
The Longest Ride
Candy Bar
Resse's
Snickers
Cartoon
Tom and Jerry
Scooby doo
Childhood Memory
Racing brothers through snowy fields
Lake house trips and fishing with my dad
Childhood Toy
Back to the future car
Doll
Children's Book
Bernstein bears
Where the sidewalk ends
City
Simione, Italy
New York
Classic Movie
Breakfast at Tiffany's
Robenhood Men in tights
Day of Week
Friday
Saturday
Dessert
Red Velvet Cheesecake
Cheesecake
Disney Movie
The Emperors New Groove
Tangled
Dream Car
Lamborghini
Tesla
Dream Job
Astronaut
Astronaut
Dream Vacation
New Zealand
African Safari
Family Activity
Boating
Boating
Flower / Plant
Orchids
Rose
Form of Exercise
running
yoga
Game
Settlers of Catan
Settlers of Catan
Hobby
Wakeboarding
Crochet
Holiday
Christmas
Christmas
Holiday Song
Have Yourself A Merry Little Christmas
Walking in a winter wonderland
Holiday Tradition
putting up the Christmas tree
Decorating the christmas tree on thanksgiving
Leisure Activity
Reading
watching movies
Memory with a Child
Cuddling up and reading books to Augie
taking Augie to the zoo and watching him with the hippo
Memory with Spouse
Proposing in a hot air balloon
scuba diving for the first time
Movie
The Grinch with Jim Carrey
Jim Carrey in the Grinch
Movie Munchie
popcorn
movie theatre popcorn
Movie Quote
Who wants the gizzards... that will be mine... -The Grinch
Musical
The Lion King
Wicked
Nursery Rhyme
Jack and Jill
Mary had a little lamb
Olympic Event
Skiing
Ice skating
Quality about my Spouse
Her Creativity
he is a great listener
Quote
If you first don't succeed try, try again
Yesterday is history, tomorrow is a mystery, but today is a gift. thats why it's called the present.
Restaurant
Jack Stacks BBQ
PFChangs
Scripture
1 Corinthians 16:13
Love one another as you love a neighbor
Shopping Store
Bass Pro
Target
Sport to Watch
Football
Hockey
Subject in School
physiology
Biology
Superhero
superman
Captain Marvel
Thing to Cook
Spring Rolls
Tacos
Time of Day
11am
Lunch time
TV Show
Last Man on Earth
Mandalorian
TV Show Character
'Tandy' Miller
Type of Music
Alternative
classic rock
Vacation Spot
The Lake
Lake or beach
Video Game
Elderscrolls
Luigi's Mansion
Get in Touch
Provide more information, so American Adoptions can connect you with this family.
---